ABOUT US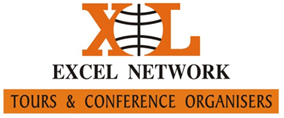 Excel Network – Tours and Conference Organisers
Excel Network Tours and Conference Organisers is one of India's leading inbound tour operators.

Specialised knowledge, impeccable service and consistent quality - is what sets us apart as an intelligent travel consultation and destination management company. What started as a vision in 1997, is now a name to reckon within the inbound travel sector in India.

Excel offers complete travel solutions with a skilled and experienced team of travel consultants and subject matter experts. One of Excels specialities is the ability to design dream travel packages customised to your needs and requirement.
For almost 20 years we have specialized in our own way to bring unique travel experiences for you in this special subcontinent ...with its wide and exotic variety of cultures, languages, cuisines,architecture , history .... unique , in their own ways .

We strive to show you the real world, by taking you off the beaten track, to the heart of the destination, and to meet the locals who call it home. If you have a lust for life and a curiosity for culture we invite you to explore this extraordinary country with us .....

We are an innovative, market-driven business with a fierce commitment to our international clients and their customers. We have steadily increased activities every year since our formation.

We are proud of our achievements and thus success in the international market owing to the special services we provide to our clients :


An enthusiastic team of experienced staff.
A strong relationship with the international travellers to understand their minute to minute needs
On-the-ground representatives in most destinations
Quick response time for enquiries and bookings , mostly within 24 hours
Flexibility during the tour programmes
Value based tour programmes

Excel Network Tours and conference organisers specialise in the field of FIT travel, group & series tours international schools and institutions, meetings, incentives, conventions, spa tours, honeymoon packages, special interest packages, Destination weddings .

In a few years, we have been able to create a niche for ourselves in the various countries of the world; UK , US , Spain , South America ,Australia and various countries from Europe .

Our operating background and experience, our strength in the market place and our loyalty to our clients means we can guarantee you the price, service and support to win more business and more satisfied customers.